The John F. Kennedy Center for the Performing Arts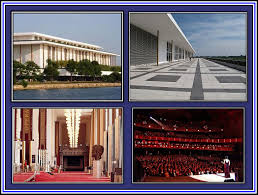 Hosting approximately 2,000 performances each year, the John F. Kennedy Center for the Performing Arts is the busiest performing arts center in the country. The facility, located in Washington, D.C. is a living memorial to President Kennedy.
If you're interested in catching a show at the Kennedy Center, just call Affinity Airport Sedan for a ride to the performance. Our punctual, reliable car service can make sure you get there on time and worry free. So when you need a ride, just call Affinity!
About the Kennedy Center
The first talks about creating a performing arts center in the District were a result of First Lady Eleanor Roosevelt wanting to create jobs for out-of-work actors during the Great Depression in 1933. Five years later, Congress made plans to build the National Cultural Center near Judiciary Square, which was never begun.
However, in 1958 Congress approved a bill to create a cultural center in memory of President Franklin D. Roosevelt. Special provisions even prohibited the center from discriminating both cast and audience members. And this marked the first time the federal government helped fund a building to be used for performing arts. The National Cultural Center was renamed for President Kennedy after his assassination in 1964. The center finally opened officially in 1971.
Visiting the Kennedy Center
Today, the Kennedy Center presents some of the world's greatest and most influential performances. By commissioning dance and ballet works, the center is routinely able to present world premiere performances from some of the nation's most esteemed choreographers. Similarly, the Kennedy Center has co-produced over 300 new theatrical works, including Tony-winning shows. Countless musical concerts also appear at the center, from jazz to performances by the National Symphony Orchestra.
In addition to a number of educational programs and workshops, the center also holds its annual Kennedy Center Honors, which celebrates five individuals or groups who have greatly contributed to American culture and the arts.
Enjoy a wonderful show at the Kennedy Center. And for a ride there, look no further than Affinity Airport Sedan!