U Street In Washington DC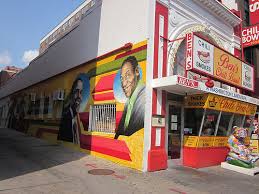 When you're in DC and looking to party or simply enjoy shopping, one of your choices can be U Street which is an entire section of bars, nightclubs, diners, art galleries, and shops which extends from 9th to 15th Streets between the Shaw and Columbia Heights neighborhood in Northwest Washington. The U Street Corridor is very much alive after dusk.
If you are interested in experiencing the nightlife on U Street, call Affinity Airport Sedan for a ride. You don't have to worry a bit about traffic or parking, schedule a ride with Affinity, and we'll get you there on time and worry-free.
Pride of U Street
The strip is a predominant Victorian-period neighborhood which was developed before the 1900s. Numerous residential units were built by property developers after the American Civil War. The road became popular when the streetcar track began its operations during the initial part of the 20th century. Traveling became more convenient for commuting workers.
One of the significant landmarks is Ben's Chili Bowl which has become a cultural hub that survived both the 1968 riots and the Metro System development that closed the street down for years. The restaurant has garnered numerous awards and was and is a favorite of famous personalities such as Martin Luther King, Jr., Duke Ellington, Nat King Cole, Bill Cosby, and President Barack Obama. It is a dining hub with over 30 restaurants, bistros and pizza parlors situated along U Street and its numerous side streets. You can also enjoy the jazz clubs and dancing halls from late night until the wee hours of the morning.
City within a City
The small town feel of U Street makes it feel like a "city within a city." And U Street has a self-guided walking trail. Simply follow the colorful signs and you will discover the heritage pathway where the independent African-American community thrived during the early 20th century. Explore the Greater U Street environs through the Visitor Hub located right beside. The corridor has become a trendy place for live entertainment with the latest reconstruction of a number of old stage theaters including the Washington Improv Theater, The Source, Howard Theater, and, Lincoln Theater. The African American Civil War Memorial and Museum can also be found on U Street. It showcases early photographs, old newspaper articles, as well as imitation of troops' uniforms, and weapons used during the Civil War.
You will certainly relish your time in Washington DC and of course, U Street. And for a ride there, call Affinity Airport Sedan for early bookings.