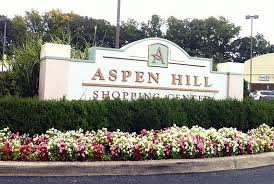 Aspen Hill in Montgomery Country, Maryland obtained its name from Aspen trees found beside the first post office in that locality. That post office was situated in a general store on Washington-Brookeville Pike which is now the junction of Georgia and Connecticut Avenues. Aspen Hill is also full of river, railway and tributary trail systems.
If you want to visit or tour Aspen Hill, call Affinity Airport Sedan. Our highly-dependable shuttle service will pick you up on time and bring you safely to any location in the DC area.
Development of Aspen Hill
The development of Aspen Hill began in the late fifties. Vitro Laboratories formally opened in 1957.  Aspen Hill Shopping Center also started operations the following year. This site on Georgia Avenue is now occupied by a Home Depot.
More developers came to Aspen Hill in the mid-sixties such as Levitt and Sons which built the Strathmore Park and public tennis facilities. Connecticut Avenue where Aspen Hill Shopping Center is situated was constructed in the late sixties.
Bauer Drive was also completed and became one of the widely-traversed roads in the area. A tunnel leading from Vitro was connected to the location of Super Fresh Grocery Store. At that time, it was the outlet of W.T. Grant Department Store retail chain. The Robert E. Peary high school was built as part of the Montgomery County Public School System. It closed down in 1984 due to lack of students. However, the school was renovated and converted into the Melvin J. Berman Hebrew Academy. The old post office, now a mail handling and sorting unit, was moved near the modern shopping center. Apartment units have also been developed in what used to be woodlands and open fields.
Places to Visit
Bauer Drive Community Recreation Center is located in Aspen Hill near the junction of Norbeck Road and Bauer Drive. This multi-purpose leisure hub provides opportunities for physical fitness and socialization. Activities include sports, music, dance, and the arts. Adults and kids alike can use the basketball and tennis courts, soccer, softball, and baseball fields. Strathmore Park also has two public tennis courts and playground for kids. It flanks the Strathmore Elementary School. A hiking and biking trail was also developed based on the Aspen Hill Master Plan for nature enthusiasts.
Call Affinity Airport Sedan for your ground transportation requirements. You can always depend on us to drive you around Aspen Hill and adjacent communities safely.