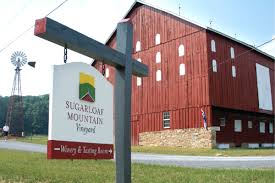 Barnesville is located at the lower part of Sugarloaf Mountain. The land, surveyed by Jeremiah Hays in 1749, is the last rural outpost in Montgomery County. It was named in honor of William Barnes, who built the first house in this town. According to the book entitled History of Western Maryland (1882), Barnesville is right in the middle of a tobacco-growing locality.
If you're headed to Barnesville, use Affinity Airport Sedan to go around town. This pleasant car service can pick you up and get you wherever you want to go.
History
The maxim of Barnesville is "A Caring Community." This is a fitting testimony to the place relished by locals and their next-door neighbors in the Agricultural Reserve of Western Montgomery County. The main produce of local farmers in Barnesville during the 19th century was tobacco.
During the Civil War, Union troops marched through Barnesville looking for Confederate forces under General Robert E. Lee. Sugarloaf Mountain was an observation point for both sides. Town residents took refuge in their cellars, and the Union army finally emerged as the winner. The first female Confederate spy, Rose Greenhaugh O'Neill, was baptized in Barnesville by her uncle, who happened to be the pastor at St. Mary's Church. She was eventually captured by Union soldiers and incarcerated.
In 1888, Barnesville was incorporated by the Governor under the name of "The Commissioners of Barnesville." The town is situated in a combined residential and agricultural zone with exclusive zoning laws. Barnesville is serviced by the MARC commuter rail system; the station used to be a gas meter station in Rockville, which transferred to Barnesville in 1977.
Barnesville Today
As of 2000, the town has two churches, a post office, 79 residential units and a population of 200 people. It was able to maintain the charm of rural commerce from which it developed. The early retail outlets consisted of a general store, blacksmith shop, tannery, doctor's clinic, pub, school, hotels, and a magistrate who owned a 250-acre farm. That farm is still owned by his descendants after two centuries. Barnesville has limited land area, but it also has rural charm, rich history, and affable residents who are descendants of families who founded the town.
If you have scheduled a trip to Barnesville or any other town in Montgomery County, get in touch with Affinity Airport Sedan right away. It is the exclusive shuttle service that allows you to explore comfortably and safely.