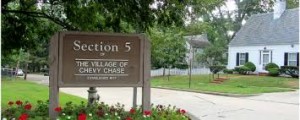 Chevy Chase Section Five was created in 1922 and incorporated as a municipality on June 25, 1982. At that time, Section 5 had 225 private residential units and one restaurant. The section is managed by a five-member Village Council elected by local residents. Members serve for a period of two years.
If you'd like to see Chevy Chase Section Five in Montgomery County, call Affinity Airport Sedan for a ride. Allow our reliable and professional car service to drive you around so you can relax and enjoy the tour.
Background on Chevy Chase
"Chevy Chase" comes from the French word "chevauchée," which was used in medieval Scotland and England and describes horseback raids conducted by forces belonging to both countries in the ancient borderlands.
The Chevy Chase Land Company used this name for the 200-acre land that it acquired for the street car suburb project in 1751. The lot was part of an earlier and bigger grant that came from Lord Baltimore and was awarded to Colonel Joseph Belt. The Belt Estate eventually broke up. The owner of one part was Abraham Bradley, who became Assistant Postmaster General of the United States in 1814. According to rumors, Abraham Bradley provided refuge for a number of cabinet members along with valuable government documents that they carried at Bradley Farm when British troops burned the White House. After the Land Company bought the farmland, it became home to the Chevy Chase Hunt, which later became the Chevy Chase Club.
In 1892, developer and businessman John Frank Ellis purchased more than 14 acres along Brookville Road from J.M.C. Williams. Ellis created 69 house lots and put them up for sale in 1894. This was a spin-off of Chevy Chase by calling his development "Otterbourne" in
Connecticut Avenue at Chevy Chase.
The southern side of these lots now serves as a boundary between Sections 3 and 5. It is a barrier for Delaware, Florida, Fulton, and Georgia Streets, isolating these areas from Thornapple Street. Development depended on the same Connecticut Avenue street car line that served the Land Company's new development of Chevy Chase Section 2. Chevy Chase Land Company extended Connecticut Avenue from Calvert Street to Chevy Chase Lake, then built an artificial lake and amusement park to entice people to the new suburb.
Enjoy the fresh atmosphere of Chevy Chase Section Five, and for a ride there, call Affinity Airport Sedan.