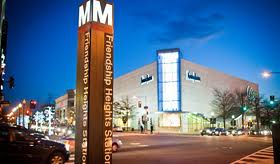 Friendship Heights is made up of residential areas and commercial facilities surrounding the northwestern part of D.C. and the southern area of Montgomery County. It is a pleasant community with retail shops, high-rise apartment units, and accessible transportation just around the corner. In spite of this development, this neighborhood in D.C. and Maryland is more of a village than a busy market district.
If you need a ride between Friendship Heights and the airport, please feel free to give us a call.  Airport Sedan provides a dependable shuttle service in and around the area.
History of Friendship Heights
The origins of Friendship Heights were unassuming. The name's terminology originates from the 3,000-acre "Friendship" land grant to colonists in 1713. During the 1800s, a family of Quakers (Shoemakers) from Philadelphia cultivated the roadway of Georgetown and Frederick, which is now Wisconsin Avenue. At the turn of the 20th century, the trolley car trail from Georgetown connected with the southern boundary of Montgomery County, encouraging local businessmen to build homes for travelers. Among the businessmen was the descendant of original settler Samuel Shoemaker—a lawyer for the prohibitionist group called the Anti-Saloon League of Washington D.C. Another founder was Henry Offut, a grocer from Georgetown who eventually became a banker.
Friendship Heights Village, including the Offutt Subdivision, was recognized by the Council of Maryland County in 1914. In the past, village homeowners held a hog slaughter every year. Part of the autumn ritual was to shoot the animals using a .22-caliber rifle, then boil the game before removing its fur.
Commercial Neighborhood
A lot of people go to Friendship Heights for a wholesome shopping experience. If you go up to Wisconsin Avenue, there are many and varied retail outlets. The commercial district is anchored by two large malls. One is the Mazza Gallerie, home to a luxurious specialty department store (Neiman Marcus), an upscale consumer retail enterprise (Williams Sonoma), and an AMC theater. The second mall, the Chevy Chase Pavilion, houses the Embassy Suites Hotel, a J Crew specialty retailer, and a World Market that sells furniture, home accessories, food, and wine. At the south end are fashionable specialty shops that sell Louis Vuitton, Gucci and Christian Dior.
If you need a car service from any airport to Friendship Heights, make it an easy trip by calling Affinity Airport Sedan.