Clara Barton National Historic Site
Tour the Clara Barton National Historic Site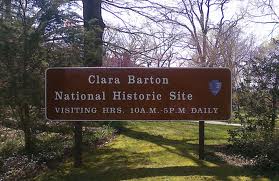 While most people are familiar with the humanitarian efforts of American Red Cross, few know much about its origins.  If you're visiting the Maryland area, take some time to check out the former home of Clara Barton, founder of this renowned organization.
Interested in exploring the Clara Barton National Historic Site? Call Affinity Airport Sedan for a ride there! Our professional car service can get you to this celebrated home where Barton launched her efforts to bring aid to millions of people across the country and around the globe.
About the Clara Barton National Historic Site
Located two miles northwest of Washington, D.C. in Glen Echo, Maryland, the Clara Barton National Historic Site was established in 1974 to honor and interpret Clara Barton's life and work providing emergency relief for victims of natural disasters and war.  The site currently includes nine acres of land surrounding Barton' s 38-room residence and is the first national historic site to honor the achievements of a woman. In addition to being the home where Barton spent the last 15 years of her life, from 1897 – 1912, the site served as the early headquarters of the Red Cross.
In addition to her achievements with the Red Cross, Barton was a teacher, patent clerk, Civil War nurse, pioneer, and author. Barton dedicated her life to serving others, and even over 100 years after her death, thousands of people are aided each year because of her efforts.
Visiting the site
Today, 11 of the home's 38 rooms have been restored. Barton's bedroom and the Red Cross offices are among the restored areas. Guests get a sense of Barton's life and work through guided tours of the three-level home. Admission is free, and tours start on the hour between 10:00 a.m. and 4:00 p.m. daily.
If you'd like to walk in the footsteps of this legendary humanitarian and take a look at the early offices of the American Red Cross, call Affinity to get you to the site. We're happy to give you a lift!