Washington Dulles International Airport
 Visiting Washington Dulles International Airport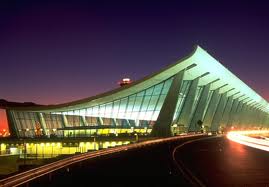 The busiest airport in the Washington D.C. region, Washington Dulles International Airport averages over 60,000 passengers each day. Located 26 miles west of downtown D.C. in Dulles, Virginia, the airport is convenient for visitors traveling to or from D.C., Maryland, and Virginia alike.
If your travel plans call for a trip through Dulles International, be sure to call Affinity Airport Sedan for your ground transportation needs. Our personal, dependable car service will pick you up and get you to or from the airport on time and worry-free.
About Washington Dulles International
Dulles International was named after the Secretary of State under Dwight D. Eisenhower, John Foster Dulles. The airport opened in 1962 at the end of World War II when a growth in aviation led to demand for a second airport in the Washington region.
The airport sits on nearly 12,000 acres of land, and its design includes a hotel, office buildings, and a man-made lake that collects rainwater. The terminal itself is designed to suggest flight and is still considered an architectural beauty.
Dulles today
In 2012, Dulles served 22.6 million passengers and averaged 1,000 to 1,200 flight operations daily. In addition, a rise in international travel has made Dulles International the second largest operator of flights to the Middle East from the United States.
Since 2003, the airport has been home to the Smithsonian National Air and Space Museum's Steven F. Udvar-Hazy Center, which houses historic aircraft, spacecraft, and other celebrated aerospace artifacts, including the Space Shuttle Discovery.
Dulles International is also proud of its underground train system, the AeroTrain, which was unveiled in 2010. The train carries passengers between concourses and to the main terminal and boasts a wait time of four minutes or less — a vast improvement over the airport's older mobile lounges that met each plane and averaged 15-minute wait times.
Landing in or leaving from Dulles International? Call Affinity for your ground transportation needs. You can always rely on us to get you where you're going on time and hassle-free. So, just leave the driving to Affinity!