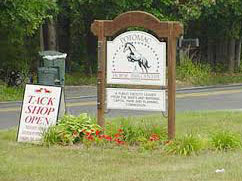 In 2009, CNN Money named North Potomac in Montgomery County as one of the wealthiest communities in the United States.  The world's biggest business website described North Potomac as a "tony or rich town" nestled on the edge of the Potomac River. There are charming old estates, upscale golf courses and several riding clubs for the affluent residents. This town was also ranked by Forbes as the most affluent neighborhood in the country in 2008.
If your travel plans include visiting North Potomac, just call Affinity Airport Sedan to get you there. Our friendly, reliable ground transportation service can pick you up from the airport and get you wherever you need to be.
Background
Potomac may not have been that famous if not for the historic river. The waterway brought together different cultures from the coal miners of Maryland's next-door neighbor, West Virginia to the urban population of Washington DC. It is said to be the first settlement of the Algonquin Indians in Maryland sometime between 1200 and 1500 AD. English colonists came to North Potomac during the 18th century and started a farming culture. The locality became a simple agricultural area throughout the 1800s.
Economic growth was spurred by the building of the Chesapeake and Ohio Canal which originated from Georgetown in 1831. The channel allowed farmers of this area to purchase fertilizers and other supplies from merchants in Washington. Produce, like wheat and flour, were transported to various markets including the capital, through this inland waterway. The town was spared from much of the destruction during the American Civil War and since then there has been continuous development.
Rise of North Potomac
North Potomac was created in 1988 from the secondary perimeters of Gaithersburg, Potomac, and Rockville. It is situated along the Potomac River and the main shopping centers include Potomac Valley, Travilah Square and Traville Gateway. The popular HYPERLINK "http://en.wikipedia.org/w/index.php?title=Travilah_Square&action=edit&redlink=1" Square, which used to be the only shopping center in the vicinity, is now being challenged by renowned urban retail hubs and new boutique chains. This includes Kentlands in Gaithersburg, and King Farm and Falls Grove in Rockville. One large and long-staying enterprise is the Potomac Horse Center which was established in the 1950s. It has evolved into the premiere equestrian center in the Potomac area.
If you need a ride from any airport to North Potomac, please give us a call. Affinity Airport Sedan offers a reliable ride to your destination; on time and without hassles.