Visiting Chinatown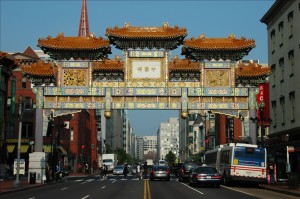 Chinatown is a historic Washington, D.C. neighborhood near the center of the city. Located east of downtown, the area is home to several Asian restaurants and businesses.
If you're interested in exploring Chinatown, just call Affinity Airport Sedan for a ride there. Let our professional, ground transportation service navigate D.C.'s traffic-packed streets, so you can sit back and ride stress-free.
About Chinatown
The area that is currently Chinatown was once populated by mainly German immigrants. However, in the 1930s, Chinese immigrants started calling the neighborhood home after being displaced from their original location on Pennsylvania Avenue, where the government began building Federal Triangle, a large government office complex. With the new Chinese residents came decorative latticework and signs written in Chinese characters.
The Friendship Archway, a traditional Chinese gate arching high over H Street NW, was dedicated by the city in 1986. Designed by local architect Alfred H. Liu, this bright, colorful $1 million art piece includes seven tiled roofs, with the tallest sitting at 60 feet high, along with nearly 300 painted dragons modeled after those in the Ming and Qing Dynasties. The Friendship Archway is known as the world's largest single span archway.
 Chinatown Today
Today, Chinatown is only approximately 21 percent Asian, despite having a 66 percent Asian population in 1990. Many Chinese Americans relocated to suburbs in Maryland and Virginia after the 1968 riots, seeking economic stability and safer environments.
Chinatown is currently a thriving community, with countless restaurants, bars, and shops, in addition to the Verizon Center, a convention center and sports and entertainment arena. While many businesses in the area are national chains with no Chinese influence, all shops are required to hang signage in Chinese characters, which helps maintain the area's sense of heritage.
Enjoy getting a feel for Washington D.C.'s Chinatown district. And if you need a ride to Chinatown from one of the District-area airports or train stations, don't hesitate. Just call Affinity!