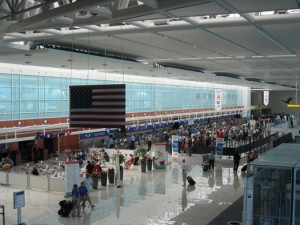 At Affinity Airport Sedan, one of our most frequent stops is the Baltimore-Washington International Thurgood Marshall Airport – or BWI. And it's no wonder why visitors love flying into BWI. In the last three years, the airport has been ranked the best of its size (15 – 25 million passengers annually), and its food and beverage program won second place in a contest sponsored by Airports Council International.
If your travel plans have you flying to or from BWI, chances are you'll need a ride. Call Affinity Airport Sedan! Our personal, reliable car service can pick you up and get you where you need to be. Traveling is stressful enough. Leave the ground transportation to Affinity.
About BWI
Originally Friendship International Airport, BWI was dedicated by President Truman and began operating in 1950. With plans to upgrade and modernize in 1973, the name was changed to Baltimore-Washington International Airport to reflect its role as the region's transportation hub. And in 1980, with the opening of BWI Rail Station, serviced by Amtrak, BWI became the nation's first airport served by a dedicated intercity train station. With another renovation in 2005, came another name change – to Baltimore-Washington International Thurgood Marshall Airport. The new title honors Baltimore native Thurgood Marshall who became the first African-American Supreme Court Justice.
Things to do at BWI
Delayed flight? If you need something to do while you wait, you're in luck. In addition to a wide variety of eateries and retail shops, BWI has a few unique attractions. You can walk the BWI Cardio Trail, which consists of two different one-mile loops in the terminal. Or if you'd rather relax, you can stop by the meditation room (between Concourses D and E) or the BWI Observation Gallery. The gallery features children's play equipment, the Maryland Youth Art Gallery, aviation exhibits, and a restaurant/ cocktail lounge. Plus, the Thurgood Marshall Tribute, next to the Observation Gallery, offers a fascinating exhibit about the legendary civil rights activist.
Happy travels through BWI! And for a hassle-free, reliable ride there (or back), call Affinity Airport Sedan!