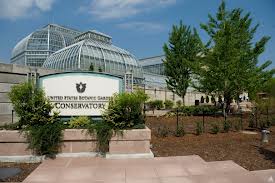 The United States Botanic Garden is located on the grounds of the United States Capitol near Garfield Circle. It's the nation's oldest continually operating botanic garden and is open daily, including federal holidays.
If you'd like to stroll through the United States Botanic Garden, just call Affinity Airport Sedan for a ride there. Enjoy the lush beauty of the garden without stressing out over traffic and parking in the city. For a prompt and professional ride, you can always rely on Affinity.
History of the U.S. Botanic Garden
The idea to create a botanic garden was first suggested in 1816 by Washington, D.C.'s Columbian Institute for the Promotion of Arts and Sciences, and in 1820, President James Monroe reserved five acres of land for the project. Initially, this "national greenhouse" faced many obstacles, including swampy land, severe funding limitations, and lackluster record keeping. However, by 1824, there were over 450 kinds of plants growing in the garden, with some from as far as China and Brazil.
Despite closing in 1837, the garden was re-instituted in 1842 with Lt. Charles Wilkes' return from an expedition to the South Seas. He returned with an extensive collection of horticultural and botanical specimens, many of which had previously been unknown in the United States.
The U.S. Botanic Garden today
Today the garden boasts more than 10,000 living specimens. Some are over 165 years old. And the garden includes three locations: the Conservatory, Bartholdi Park, and the Production Facility. The Conservatory has nearly 30,000 square feet of growing space and eight garden rooms. Each room replicates a different habitat. Bartholdi Park is located south of the Conservatory and strives to inspire guests to develop and improve their own home gardens. And the Production Facility is located in Southwest D.C. and is instrumental in growing and storing plants and maintaining the collection.
Come relax and explore international plant life in the U.S. Botanic Garden. And for a lift there, just schedule a ride with Affinity!