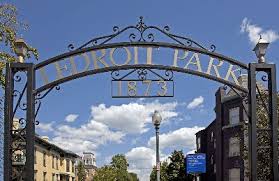 LeDroit Park is a neighborhood in northwest Washington, D.C. The area became a national historic district in 1974 and has been home to notable residents like Duke Ellington and Jesse Jackson.
If you'd like to explore LeDroit Park while you're in the area, just schedule a pick up with Affinity Airport Sedan. Our punctual, reliable car service will get you where you're going on time and hassle free. Don't worry about fighting traffic and searching for parking around the city. Just call Affinity!
About LeDroit Park
LeDroit Park was founded in 1873 by Amzi Barber, a wealthy businessman, who named the area after his father-in-law. The community was one of D.C.'s first suburbs and was advertised as a romantic neighborhood. It featured narrow, tree-lined roads that were given tree names, as opposed to other streets in the District which were generally named after numbers, letters, or states. And landscaping was a major focus, intended to attract residents. The community was even gated to promote security and an air of separation for residents.
Despite its creation as a segregated area, by the 1940s many elite African Americans also called LeDroit Park home. Today, the neighborhood is extremely diverse, representing a countless number of ethnic groups.
LeDroit Park today
Visitors often marvel over the neighborhood's Victorian mansions and homes designed by famed architect James McGill. Of his 64 homes built in the area during the mid 1870s, no two were identical. Fifty still remain today.
The neighborhood prides its self on engaging residents and promoting beauty and development. The area is home to the Park at LeDroit, which includes a playground, dog park, and Common Good City Farm, a community garden and agricultural education center. The park is so impressive that Prince Charles of Wales stopped by during his 2011 visit to the States. In addition, the community is enhanced by colorful murals painted on many walls throughout the area.
Soak up all the culture and history of LeDroit Park for yourself. And for a ride there, just call Affinity Airport Sedan.